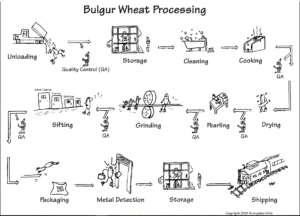 Bulgur Wheat is whole wheat that has been cleaned, parboiled, dried, ground into particles, and sifted into distinct sizes. Since bulgur is parboiled (partially boiled) and dried before it is packaged, it cooks much more quickly than other types of wheat.
Bulgur Wheat is different than cracked wheat which has not been parboiled. This means cracked wheat takes a bit longer to prepare and has a shorter shelf life.
So is bulgur healthy? You bet it is.
Minimal processing separates it from more refined wheats that lack nutritional value.
A rich source of fiber (one serving fulfills 30 percent of your recommended daily intake), bulgur promotes digestive and heart health.  It's also chock-full of manganese, iron, and magnesium. It's also relatively low in calories
Bulgur's flavor is light and nutty. Like other whole grains, it has a chewy texture when cooked. It's sold in a variety of grinds, from fine to extra coarse.
#1 Fine Traditional Bulgur makes a nutritious breakfast cereal, and can be used in breads and desserts, tabbouleh salad, soups, and in any recipe as a substitute for rice.
#2 Medium Traditional Bulgur is an all-purpose size used in salads, stews, soups, multi-grain bakery goods, and especially in meatless burgers and chili.
#3 Coarse Traditional Bulgur for low-fat stuffing's, casseroles and vegetarian tacos, side dishes, and can also be used in pilafs, soups, salads and artisan breads.
#4 Extra Coarse Traditional Bulgur for hearty soups, pilafs, side dishes and breads.
#5 Half Cut Traditional Bulgur extra-large grind for use in soups, pilafs and specialty recipes.
Whole Kernel Traditional Bulgur can be used as a key ingredient in hearty soups, vegetable and grain side dishes, and to impart whole kernel goodness and texture to artisan breads.
Try using bulgur wheat in any dish that you might typically use rice. You'll love the nutty taste and added nutrition!
*Keep in mind that bulgur wheat will expand to twice its original volume with cooking.