I have made this several times over the past few years & it is always a hit. Adding bulgur wheat turns any salad into an entrée!
This salad can actually be made with a mix of two premade salad mixes, plus 1/4 cup precooked #1 fine bulgur per serving.
It's a quick but truly yummy, nutritious and hearty salad that I can quickly and proudly serve for any lunch, dinner, or last-minute guest.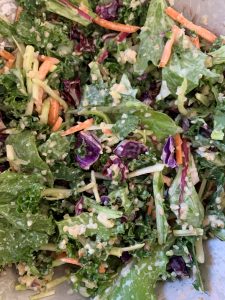 I used a spring mix and sweet kale mix with poppy seed dressing.
To pre cook the bulgur, use 1 cup #1 fine bulgur wheat and soak in a ceramic bowl with 2 cups boiling water for 20 minutes.
If you want to create the salad mix at home, you can use any or all the following ingredients. Use what you have on hand & play with the amounts of each ingredient.
Broccoli, Green Cabbage, Brussel Sprouts and sliced carrots;
Kale, chicory, green romaine, red romaine, red oak, green oak, red leaf, green leaf, baby spinach, Arugula, endive, red chard, green chard, , baby greens, radicchio
Top with dried cranberries and roasted pumpkin seeds
Try this make-at-home dressing as another option:
Combine the vinegar, shallots and agave nectar in small glass jar with a tightly fitted lid. Shake to combine. Add the oil and shake vigorously to emulsify. Season with salt and pepper. Set aside until ready for use.
The key is – always have bulgur in the house because you can use it frequently to enhance, stretch or add nutrition to so many dishes!