Eating the same old, same old everyday? Here are 6 superfoods that are often overlooked but should be on your grocery list. Not only do they taste delicious, they pack a serious nutritional punch and can help you lose weight too.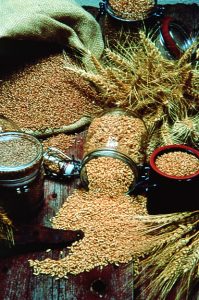 –Written by Julie Upton, M.S., R.D., CSSD
1. Bulgur
If bulgur is new to you, it should be on your must-try list. Not only is it tasty and simple to make, it is a superfood. Bulgur is a whole grain with a nutty flavor. And just 1 cup has 8 grams of fiber and 6 grams of protein. (Yes, a grain with protein… it happens!) So if you're in a rice or potatoes rut, shake things up
a little with this great grain.
2. Kale
Do something great for your health today and cook up some kale! This low-calorie green provides an excellent source of both vitamins A (as beta-carotene) and C, along with a decent amount of fiber. Kale also delivers vitamin B6, which helps maintain healthy nervous and immune systems, as well as iron and calcium. You can sauté kale (in a bit of olive oil) as you would spinach.
* and by the way, kale goes great with bulgur wheat!
.
Read the rest of the article here…