Bulgur is a quick-cooking form of whole wheat that has been cleaned, parboiled, dried, ground into particles, and sifted into distinct sizes. Not to be confused with cracked wheat, bulgur differs in that it has been pre-cooked and is ready to eat with minimal cooking – many of Sunnyland Mills' products cook in as little as 9 minutes.
12 Great Ways To Use Bulgur is from Oldways, a Food and Nutrition Nonprofit Helping People Live Healthier, Happier Lives.
Bulgur is low in fat and has a mild, nutty flavor. It is also a great source of dietary fiber and protein.
Bulgur is 100% Whole Grain; plant-based and recommended on the Mediterranean Diet pyramid.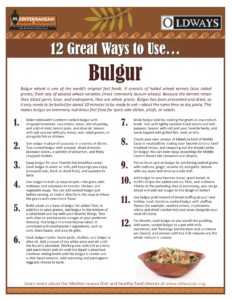 Enlarge Photo here