Anytime I can make dinner in one dish I am thrilled. Bulgur wheat cooks quickly so you can throw all the ingredients in together. It's quick, easy and delicious.
Another great thing about bulgur wheat is that it is high in dietary fiber, 8.6g per cup and half the calories of quinoa!  You can buy
bulgur wheat here
.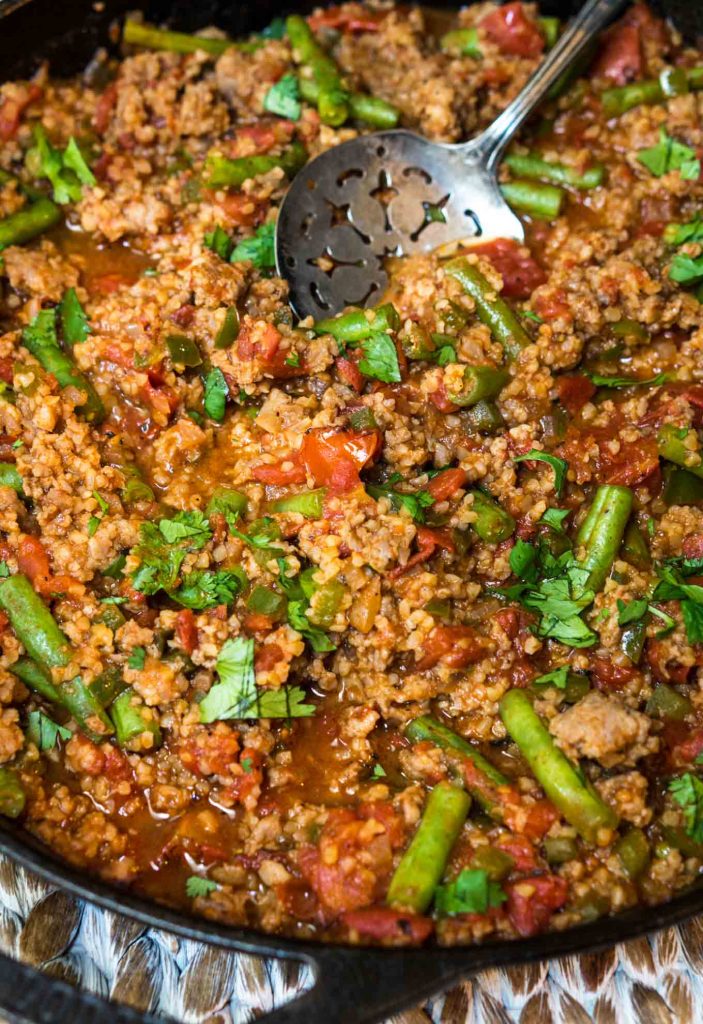 SERVINGS: 8
1/2 pound ground turkey
1/2 pound ground sausage
1/2 cup green pepper (diced)
1/2 cup diced yellow onion
3/4 cup bulgur wheat (I used #3 coarse)
14.5 ounces fire roasted tomatoes
1 teaspoon salt
1 tablespoon chili powder
1 tablespoon ground cumin
1 1/2 cups fresh green beans
1/4 cup chopped fresh cilantro
Instructions
Sauté the turkey and sausage, green pepper, onion, salt, and bulgur together until the meat is browned.
Add tomatoes, chili powder, cumin, and green beans.
Simmer for 20 to 25 minutes or until the green beans are just al dente. Stir occasionally from the bottom to prevent sticking.
Stir in chopped cilantro and serve.