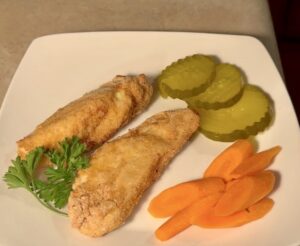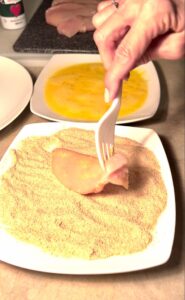 Ingredients:
3 large boneless chicken breasts
2 eggs
seasoning (of your choice)
Salt & pepper
1/2 cup #1 or #3 bulgur wheat
Directions:
Pour desired amount of bulgur into air fryer – roughly 1/2 cup per 6 tenders
Air fry on 390 for 5 minutes
Transfer to a grinder (typically a coffee grinder) and grind for 30-60 seconds.  Grind to a light, almost powder consistency.
Pour coating onto a plate and season with your favorite seasoning. (Italian, spicy, Parmesan etc.)
Scramble two eggs (or more if necessary) to coat chicken and dip into bulgur coating.
Salt and pepper if desired and lightly spray with oil.
Lay tenders into air fryer in a single layer.
Air fry tenders for 10-11 minutes at 390
Enjoy with your favorite sauce !