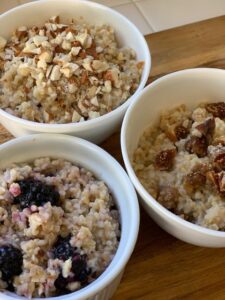 Makes 10 servings
2 Cups Bob's Red Mill Steel Cut Oats
1 Cup #3 Coarse Sunnyland Mills Bulgur Wheat
8 Cups water and more as needed for desired consistency
1/2 Cup Bob's Red Mill Oat Bran
¼ cup chopped Walnuts
1 Tsp. Stevia
1 Tsp. ground Cinnamon
½ Tsp. Salt
Bring water to a rapid boil. Add Oats, Bulgur and Bran. Reduce heat to a simmer. Add salt, Stevia, cinnamon and walnuts. Stir frequently. Cook for 20 minutes.
Freeze excess and thaw as needed.
~~~~~~~~~
I can eat oatmeal almost every morning!  Here are a few of my favorite, naturally sweet, single serving variations to an already delicious recipe.
Add 2 tablespoons of chopped almonds for a satisfying hearty crunch.
Berrie, berries, berries! No amount is too much! Heat the blackberries with your oatmeal and you'll swear you're eating blackberry pie.
Cut up 2-3 dried figs which will add texture and an amazingly sweet taste
Add a drizzle of warm Nutella topped with sliced strawberries and you'll have a sure winner with your kids