You can make these empanadas with premade pie shell dough (like Pillsbury Pie Crusts 2 Count)  or make it from scratch. Either way they are surprisingly easy and quick.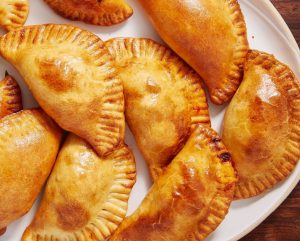 Makes 12 Empanadas
INGREDIENTS
FOR THE DOUGH
3 c. all-purpose flour, plus more for surface
1 tsp. kosher salt
1 tsp. baking powder
1/2 c. cold butter, cut into cubes
3/4 c. water
1 large egg
FOR THE FILLING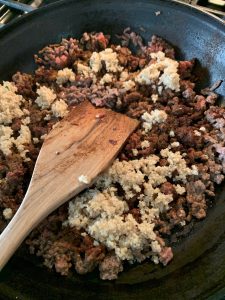 2 tbsp olive oil
1 medium red onion chopped
3/4 cup cooked bulgur #1 Fine bulgur
2 tbsp tomato paste
12 oz. ground beef
1/2 tsp salt
1 teaspoon dried oregano
5 cloves garlic, minced
1 tsp chili powder
1 tsp paprika
1/2 tsp cumin
1/4 cup frozen peas
1 tbsp chopped green onions
1 tbsp chopped fresh parsley
1/4 cup water
DIRECTIONS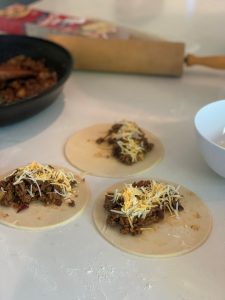 MAKE DOUGH
In a large bowl, whisk together flour, salt, and baking powder. Cut butter into flour using your hands or a pastry cutter until pea-sized. Add water and egg and mix until a dough forms. Turn dough out on a lightly floured surface and knead until smooth, about 5 minutes.
Wrap in plastic wrap and refrigerate for at least 1 hour.
If using premade pie crust, roll out the sheet of dough and sprinkle lightly with flour before rolling it thin. The thinner crust actually taste better allowing the flavor of the bulgur and meet filling to come through.
MAKE FILLING
Heat olive oil in a large skillet over medium high heat. Add in onion and sauté for 2-3 minutes or until softened and golden brown. Add garlic and cook until fragrant, 1 minute more.
Add ground beef and brown until no longer pink, 4-5 minutes. Drain excess fat and
Add cooked bulgur, salt, chili powder, paprika and cumin.
Stir in tomato paste. Sauté for an additional 2 minutes.
Remove from heat and allow to cool slightly. Add in frozen peas, fresh parsley, and green onion.
Place dough on a lightly floured surface and divide in half. Roll one half out to ¼" thick. Using a 4.5" – 5" round cookie cutter, cut out rounds. Repeat with remaining dough. Reroll scraps once to cut out more rounds.
Lightly moisten outer edge of a dough round with water and place about 2 tablespoons (about ¼ cup) meat filling in center and top with cheddar and Monterey. Fold dough in half over filling. Use a fork to crimp edges together. Repeat with remaining filling and dough.
Place empanadas on prepared baking sheets and brush with egg wash. Bake at 400 degrees until golden and filling is warmed through, about 20-25 minutes.
Garnish with cilantro and serve with sour cream.
FOR AIR FRYER
Place empanadas in a parchment-lined Air Fryer basket, making sure they don't touch, and cook in batches at 400° for 10 minutes.
Fry: Add oil to a deep pan or pot so that it reaches 1 inch in depth. Heat oil to between 350 and 375 degrees. Fry in batches, 3 at a time, 2-3 minutes per side or until golden brown.