Warm Bulgur Carrot Salad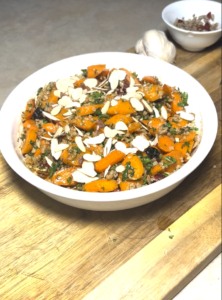 Ingredients:
1 ½ lb Carrots
½ cup #3 coarse bulgur
2 tbsp raisin/cranberry mix
¼ cup Parsley chopped
3 tbl spoons shaved almonds
¼ cup Ex virgin olive oil
2 tbsp lemon juice
1 tbsp mustard
1 small garlic clove chopped or grated
½ tsp cumin
½ tsp paprika
1 tsp salt
¼ tsp black pepper or red pepper flakes
Place bulgur into a ceramic dish and cover with 1 cup boiling water – cover and let sit for 20 minutes.
Peel and slice the carrots on the bias.
Make the slices all about the same thickness, about 1/4-inch slices. This way, they'll cook evenly.
Bring water to a boil. Rule number one of steaming vegetables is bring the water to a boil first!
Add the carrots in the steamer basket, and steam for 4 to 5 minutes, until crisp tender.
Make sure to test the pieces with a fork and remove from the heat when cooked to your liking. Most importantly: don't overcook them!
Carefully drain the carrots and add to serving dish.
Make Sauce:
Add olive oil, lemon juice and mustard to a small bowl and whisk together. Add garlic
Cumin, paprika, red pepper flakes and salt. Whisk until fully blended.
Add cooked bulgur and chopped parsley and cranberry/raisin mix to the carrots. Add the sauce and mix thoroughly. Top with sliced almonds and serve warm.