Where to Buy Sunnyland Mills' Whole Grain Bulgur Wheat
Wholesale Purchase:
Packaging Specifications – All products are available for wholesale in 25 and 50 pound woven polypropylene or paper bags and in 2,000 pound woven polypropylene bulk totes. Please contact us for the location of our distributor nearest you, as we do not sell our bulk products to the public. Wholesale quantities are not available for purchase online.  Click here to go to the Sunnyland Mills storefront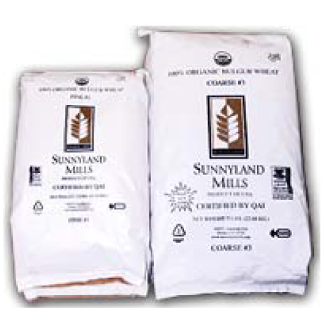 Bag weight
Bag/pallet
Bag cube (ft)
Bag dimension(inches)
Full pallet
dimensions
(inches)
25 lb.(11.34 kg)
100
.572 cu ft.
19″L x 13″W x 4″H
48″L x 42″W x 58″H
50 lb.(22.68 kg)
50
1.46 cu. ft.
24″L x 17.5″W x 6″H
48″L x 42″W x 53″H
2000 lb.(907.19 kg)
1
50.17 cu ft.
39″L x 39″w x 57″h
44″L x 44″W x 62″H
Our specifications are strictly adhered to in order to provide the best bulgur in the world and our zero recall track history.
Online Purchase:
Sunnyland Mills packages and sells a line of Sunnyland Mills products in quantities of two 4-pound bags per box that are available for purchase online at Amazon.com. Click here to go to the Sunnyland Mills storefront