These are no-bake, Krispy, crunchy peanut butter bars. The bulgur adds additional texture and crunch along with the Rice Krispies.
My kids and their friends loved these, had no idea there was bulgur in them, and there were only 4 left by the time I got around to taking pictures!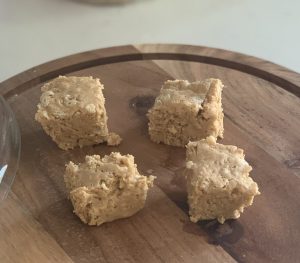 Ingredients
1 cup peanut butter
1 1/2 cup powdered sugar
1/4 cup soft butter or margarine
1 1/2 cup Rice Krispies
1/4 cup #3 coarse bulgur wheat
1/2 cup boiling water
*Optional –  chocolate chips
Direction
Place the bulgur wheat in a ceramic bowl and cover with the boiling water. Let sit for 15-30 minutes.
In a large bowl mix sugar, peanut butter, and butter with a pastry blender until well mixed. (I actually used a potato masher)  Add the Rice Krispie cereal and cooked bulgur wheat and mix well with a spoon. Press the peanut butter mixture into a small 9×9 glass baking dish.
Optional – Melt chocolate chips and drizzle on top
Buy bulgur wheat on Amazon